What could be better than having someone read a story to you? How about having that someone be an astronaut who reads a story to you FROM SPACE?! Enter Story Time From Space.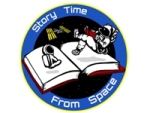 Story Time From Space is a project of the Global Space Education Foundation, and contains over a dozen different videos of astronauts aboard the International Space Station reading space-themed children's books. Each video starts out with a quick introduction to a part of the International Space Station, such as the all important airlock door and the cupola "window observatory" module. Then, as the story begins the videos cut back and forth between the astronaut reader and the book illustrations with a little animation thrown in for fun.
Each video comes with the following information:
Written by
Read by
Run Time
Scrolling down the page will provide you with a written synopsis of the story. There is also room for multiple Activity Guides that are "coming soon!" Finally, almost all of the Story Time videos include links to purchase the books from a variety of vendors.
---
In addition, the foundation is in the process of putting together a playlist of "Science Time Videos." These will introduce basic scientific concepts that are connected to some of the science experiments that the astronauts have conducted about the International Space Station, so stay tuned!